Join Our Team
We love what we do and we love the people we do it with. At Cactus we believe in creating a workplace where everyone feels welcome, supported and valued.
Service
We emphasize the importance of engaging guests and focus on building unmatched service skills.
Apply Now
Server

As a server with Cactus Club Cafe, "It's Your Business". Through this philosophy we are empowered to make the right decisions to run our business the best way possible. Our goal is to provide an exceptional dining experience through our platinum standard of service and by creating a genuine, sincere connection with guests. We are a team of magnetic personalities that achieve success by working together to make a positive impact on our guests.

Front Desk

We are the first and last impression for our guests. We are approachable, friendly, kind and hospitable.  We work together as a team to provide an exceptional guest experience.

Bartender

We craft delicious and stunning cocktails and are knowledgeable in all things beer and wine. Our team consists of charismatic entertainers, who have a passion for presentation and thrive in a fast-paced environment. We are all about fun and creating regulars by providing memorable guest experiences each and every time.

Expeditor

We act as a liaison between the culinary and service teams. Our team ensures dishes are executed correctly, on time and are delivered to guests with perfection. We are a group of passionate and tenacious individuals who love the challenge of working in a fun and fast-paced environment.

Service Assistant

We are part of the dynamic service team and work to maintain a clean, organized and efficient restaurant.  We are key to providing a high level of service to our guests by balancing the flow of table turnover with the health and safety of each guest experience.

Bar Porter

We are members of the bar team and are essential in creating a smooth service by keeping the bar stocked and organized.  Always one step ahead, we are strong communicators who can multitask under pressure and are masters of time management.

Office Manager

We are key members of restaurant operations and act as an extension of the finance and payroll teams. To keep our restaurants running successfully, we manage and maintain payroll, finance and administrative responsibilities with an acute level of diligence and perfectionism.

Service Management

We are a group of passionate leaders who treat our workplace as if it was our own business by taking responsibility in making the right decisions for our guests and our people while simultaneously reaching the company's goals and vision. We cultivate valuable leadership skills used to mentor, inspire and motivate our teams to reach their full potential. Our management team consists of a group of 'networkers' and entrepreneurial leaders who ambitiously approach their careers and personal long term success.
Culinary
We create food people love.


Apply Now
Line/Prep Cook

Our team is comprised of dedicated and talented cooks, armed with a passion for the culinary arts. We look for those who possess a strong work ethic and who want to grow their culinary talents through industry leading training.

Dishwasher

We are the heartbeat of the restaurant while building the foundation of a successful career in the culinary industry. Our team of dishwashers are organized and efficient team players with an undeniable work ethic. We are a group of individuals who are passionate about the culinary arts and want to ensure an exceptional guest experience.

Culinary Management

Our team of culinary leaders consist of competitive leaders whose mission is to ensure guest satisfaction by consistently producing top quality food. We keep our food program unrivaled in our industry, by ensuring our kitchens are cost-effective, efficient and are consistently producing top quality food. They make strategic decisions that are beneficial for our guests, our company and are consistent with our values. We are a group of passionate and ambitious senior leaders who support the goals of others as we help pave the way to becoming a nationally recognized brand.
MANAGEMENT TEAM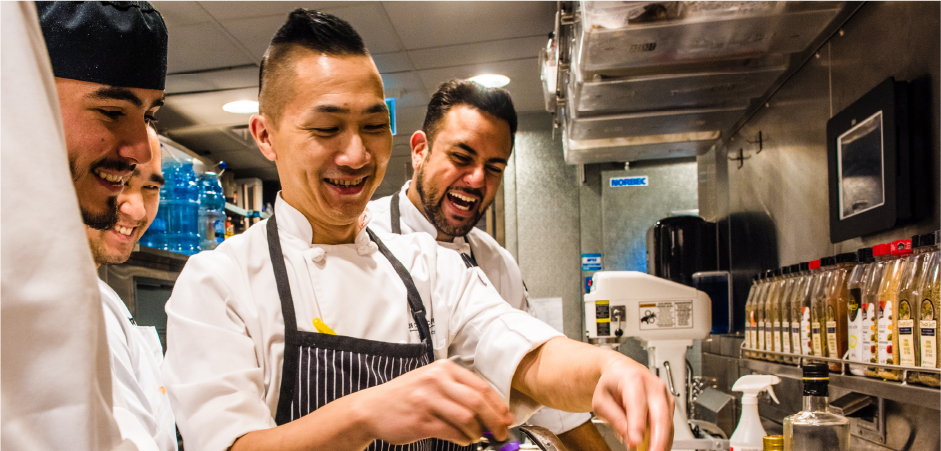 We are a group of passionate leaders who inspire our service and culinary teams to reach their highest potential. By treating Cactus as our own business, we hold ourselves accountable for guest satisfaction and out team's career development.
LEARN MORE
Head Office
We are a collection of positive, passionate, ambitious, vibrant and entrepreneurial leaders. We surround ourselves with inspiring people, and as a result we love coming to work. At Cactus, you are the driver of your own success.
See Roles
Why Cactus
We're one of Canada's most successful dining establishments and are consistently recognized as an award-winning workplace. Our brand is always growing—and this is only the beginning of our expansion. We've been branching out from regional to national, and are looking to expand internationally. We're at the tipping point and the potential for your career growth is limitless.
Leadership Training

Customized leadership and professional development courses are offered through Cactus University. One-ON-one 'show me training', access to elite speaker opportunities, and an annual education allowance to give you what you need to grow and succeed.

Personalized Development

We embrace feedback as an avenue to continuously improve through structured and open feedback forums, individual development plans, and annual goal setting reviews to support your leadership development.

Mentorship Program

Our internal mentorship program partners developing managers looking to gain practical insights and proficiencies, with experienced Cactus leaders.

Award Winning Culture

We're proud to be an award-winning top employer recognized for our industry leading culture by 50 Best Managed and Canada's Top Employers for Young People.

Compensation Packages

We offer industry leading compensation packages including profit sharing opportunities, employer funded extended health benefits, and meal subsidies. Our vacation program allows you plenty of time to rest and recharge.

Equity Program

We reward excellence and our generous equity program demonstrates this. Top performers are exclusively invited to invest like an owner in the future of Cactus.

Community Involvement

We believe in making a positive impact in the communities we serve through store-level initiatives and company-wide partnerships that our people are passionate about.

Fun Team & Work Environment

We lift each other up. We celebrate our accomplishments – big or small, and have a lot of fun along the way!
Our Values