At Cactus, we take pride in supporting our communities through causes which are important to our guests, team members and the hospitality industry.
Here's how Cactus promotes inclusion and diversity, supports charitable causes, and helps to educate and inspire the restaurant talent of tomorrow.
Inclusion & Diversity
We are committed to fostering a diverse and inclusive culture for employees and guests. This culture guides our decisions and processes, empowers our teams to excel, celebrates distinctiveness and ultimately makes us a better, stronger organization. Our team members participate in various diversity and inclusion training from accredited education providers.
Giving Back
Cactus Club Cafe works with charities across the country to deliver fundraising efforts for partners such as the Make-A-Wish Foundation, the Canadian Cancer Society's Camp Goodtimes, and Camp Oochigeas.
In addition to company-wide charitable partners, we empower our individual restaurants to support causes of their choice, delivering meaningful impact in our local communities. We also donate Cactus gift cards to a wide range of organizations to fuel their fundraising efforts.
Charitable Gift Card Lottery
Every Cactus location is committed to active participation in their local community's philanthropic efforts. To provide grass-roots support to the many different charitable causes championed by our guests, we operate a Charitable Gift Card Lottery.
Each month, guests are invited to submit an application to be entered in our lottery to receive Cactus gift cards to help support charitable fundraising. To enter each month's lottery, please click HERE.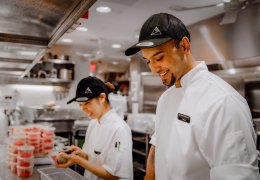 Education
Cactus firmly believes it is important that we help educate, train and inspire the talent of today and tomorrow.
Across all departments including front of house, culinary and head office, we provide senior team members the opportunity to attend Cactus U – our multi-year learning program aimed directly at developing and supporting leadership skills. Further, all salaried employees are provided with annual educational allowances to pursue career relevant training pursuits.
We donate funds to present Cactus Club Cafe culinary scholarships, which are available through Toronto's George Brown College, Vancouver Community College and Southern Alberta Institute of Technology in Calgary. Across our restaurants, our chefs also share training and expertise with up-and-coming culinary talent through Cactus-hosted events and culinary competitions.